EyeTrack Studies in Visual Perceptions:
When one of world's best-known usability experts, Jakob Nielsen, conducts eyetracking research to test what his usability work has shown, the results generate some beneficial tips for online editors. This is what happened in late 2005, when Nielsen and Kara Pernice Coyne, the Nielsen/Norman Group's director of research, conducted an eyetracking test with 255 people in New York City.
With a little more than half of the participants (63 percent) ages 30 to 49, the test generated results applicable to the target audience for most news sites. Additionally, 20 percent were 18-29 and 16 percent were 50-64. Fifty-eight percent were female, 42 percent were male. Every test subject was given 50 tasks to complete. Sessions with each test subject lasted about one to two hours.
Coyne (who we interviewed for this column) stresses that crucial to understanding the testing results is an awareness of the user's motivation or goal behind each task. Some of the testing scenarios included asking the user to "read the news" or "read/learn", making a number these results particularly helpful to journalists. She said eyetracking is valuable in these cases because it indicates not only where our users look, but where key usability problems exist.
"[With eyetracking] we can see that a user may navigate the page of an interface that houses the info she wants," she said, "but if the text is poorly presented, or the navigation is cluttered, or there are too many superfluous images so she cannot easily find what she needs. This is a lost opportunity."
We've featured three of the more interesting journalistic study results below.
Eyetracking Photojournalism: New research explores what makes a photograph memorable, shareable, and worth publishing
The eye movements of study participants were tracked with a device that allowed us to record and analyze complex and statistically significant findings: what people were drawn to in a photograph, how long they looked, if they read captions, and more. Participants had the opportunity to view as many as 200 photographs and captions. Nearly 20,000 eye movements were annotated and studied.
Combining eyetrack research with a survey in which people rated the quality of the photographs on a scale of 1 to 5 created powerful data. Subjects also rated their likelihood of sharing each image. They told us which of the images were most memorable, and why; where and how they usually encounter photography and what characteristics make a photograph worth sharing and publishing.
Other headlines from the research:
— Professional photographs were twice as likely as user-generated photographs to be shared, according to ratings given by people in the study.
"Bad quality kind of crushes the credibility of a photo," said a 20-year old female participant in the study, "I would be more likely to share something that looked nice, than something that looked like just anyone took it."
— More time was spent, on average, with professionally generated photographs than with user-generated images.

— Professional photojournalists took each of the 25 photographs rated highest from the collection of 200.
— The 20 most memorable photographs were also taken by professionals. Each was cited by at least four of the test subjects. One close exception was a user-generated photograph of a bulldog in a hoodie, cited by three people.
— People look first at faces. (This echoes other eyetracking studies I have directed for The Poynter Institute for Media Studies.) And they are interested in the relationships between people in the frame, often looking back and forth, between faces and interactions.
— The importance of "storytelling" to photography was mentioned by nearly every subject in the exit interviews.
What is the F-Pattern and how it works?
The F-Pattern describes the most common user eye-scanning patterns when it comes to blocks of content. F for fast. That's how users read your content. In a few seconds, their eyes move at amazing speeds across your websites page.
The pattern was popularized by NNGroup eyetracking study which recorded more than 200 users looked at thousands of web pages and found that users' main reading behavior was fairly consistent across many different sites and tasks. This reading pattern looked somewhat like an F and has the following three components:
How to use the pattern
F-Layout literally gives the designer more control over what gets seen.
Prioritize your content
Before arranging the elements on your page, prioritize the most and least important ones. Once you know what you want your users to see, you can simply place them in the pattern's 'hot spots' for the right interactions.
Set initial expectations
The first two paragraphs are the most important. Place the most important content near to the top of the page as possible in an attempt to communicate the site's (or page) purpose quickly. The user will usually read horizontally across the header, so here's a good place for a navigation bar.
What Is Z-Pattern, How It Works and Why It Works
As you would expect the z-pattern layout follows the shape of the letter Z. A z-pattern design traces the route the human eye travels when they scan the page— left to right, top to bottom:
First, people scan from the top left to the top right, forming a horizontal line
Next, down and to the left side of the page, creating a diagonal line
Last, back across to the right again, forming a second horizontal line
When viewers' eyes move in this pattern, it forms an imaginary "Z" shape:
Content is king
Be on the lookout for a new EyeTrack research, this time testing how we react to photographs.
If there is one theme that has resonated with the EyeTrack Research we have done at Poynter for print, online and tablets, and the new Fortanet research with smartphones, it is that content is king and that the content of the story is a greater determinant of how the reader will see it than the actual positioning.
The eyes seems to center on left of screen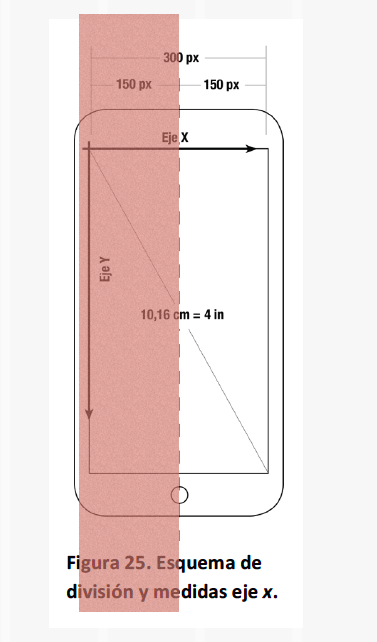 Some early conclusions
The results of this study from Christian Fortanet for the University of Alicante offers us valuable insight for us to continue to look at smartphones as the platform of choice for a large number of news consumers. According to a Reuters study, 53% of all news readers are accessing news on their mobile telephones.
Specifically, we now have proof that when it comes to touch, it is all about vertical movement, or scrolling as a preference, boosting our efforts to concentrate on linear, more visual storytelling.
What to look for in eye tracking data?
Like no other experimental method, eye tracking renders it possible to quantify visual attention as it objectively monitors where, when, and what people look at. So much for the hard facts. Now let's get practical and have a look at the most common metrics used in eye tracking research and what you can make of them.
Fixation and gaze points
gaze patternWithout doubt, the terms fixation and gaze points are the most prominent metrics in eye tracking literature. Gaze points constitute the basic unit of measure – one gaze point equals one raw sample captured by the eye tracker. The math is easy: If the eye tracker measures 60 times a second, then each gaze point represents 16.67 milliseconds. If a series of gaze points happens to be close in time and range, the resulting gaze cluster denotes a fixation, a period in which our eyes are locked toward a specific object. Typically, the fixation duration is 100 – 300 milliseconds.
The eye movements between fixations are known as saccades. What are they exactly? Take reading a book, for example. While reading, your eyes don't move smoothly across the line. Instead, your eyes jump and pause, thereby generating a vast number of saccades. The visual span refers to how much text we can cover between fixations – on average, saccadic movements span 7 to 9 characters along the line of text. Trained readers have a higher visual span compared to early readers. Typically, saccades are measured in angle velocity.
Now imagine watching clouds in the sky as you pass your time waiting at the bus stop. Here, expect your eye movements to be quite the opposite as your eyes steadily follow the moving clouds. Unlike reading, locking your eyes toward a moving object won't generate any obvious saccades, but a smooth pursuit trajectory.
As fixations and saccades are excellent measures of visual attention and interest, research in this field is experiencing a significant growth.
Fixation sequences
Based on fixation position (where?) and timing information (when?) you can generate a fixation sequence. Dependent on where respondents look and how much time they spend, you can build an order of attention telling you where respondents looked first, second, third etc. This is a commonly used marker in eye tracking research since it reflects salient elements (elements that stand out in terms of brightness, hue, saturation etc.) in the display or environment that are likely to catch attention. AOIs which respondents look at first are typically visually more appealing (more salient) and are therefore of more interest.
The true power of eye tracking unfolds as it is combined with other sources of data to measure complex dependent variables.
These 5 biometric sensors are a perfect complement to eye tracking. Which metrics can be extracted from the different systems?
Have a look.
ECG & PPG: Electrocardiography (ECG) and Photoplethysmography (PPG) allow for recording of heart rate (HR), or pulse. Get insights into respondents' physical state, anxiety and stress levels (arousal), and how changes in physiological state relate to their actions and decisions.
Facial Expression Analysis: Facial expression analysis is a non-intrusive method to assess both emotions (subconscious reactions prior to feelings – typically small movements in face muscles) and feelings (conscious reactions occurring after emotions – typically more visible muscle movements). While facial expressions can measure the presence (valence) of an emotion/feeling, they can´t measure the power of that emotion/feeling (arousal).
EEG: Electroencephalography is a neuroimaging technique measuring electrical activity on the scalp. EEG tells which parts of the brain are active during task performance or stimulus exposure. Analyze brain dynamics of engagement (arousal), motivation, frustration, cognitive workload and other metrics associated with stimulus processing, action preparation, and execution. EEG provides the quickest response of all biometrics sensors.
GSR (EDA): Galvanic skin response (or electrodermal activity) monitors "emotional" sweat secretion on hands or feet. Skin conductance offers insights into the respondents' subconscious arousal when being confronted with emotionally loaded stimulus material.
EMG: Electromyographic sensors monitor the electric energy generated by bodily movements (e.g., of the face, hands or fingers). Use EMG to monitor muscular responses to any type of stimulus material to extract even subtle activation patterns associated with emotional expressions (facial EMG) or consciously controlled hand/finger movements.