The Future of Vendor Machines
Started by
Digger
,
Aug 27 2015 01:54 PM
#11 status - Guest
Posted 28 June 2016 - 07:56 AM
---
#12 status - Guest
Posted 28 June 2016 - 08:09 AM
It's never a good idea to teach kids anything usefull. When they get older they start doing stuff just like this.
Hack your local voting machine for 26 bucks
---
#13 status - Digger
Posted 20 June 2017 - 02:48 PM
Crazy Vending Machines
---
#14 status - Anonymous
Posted 21 June 2017 - 07:49 PM
A Bunch Of CIA Staff Got Fired For Stealing Snacks From Vending Machines
Several CIA contractors were kicked out of the agency for stealing more than $3,000 in snacks from vending machines, according to official documents newly obtained by BuzzFeed News.
---
#15 status - Roasted Chicken
Posted 21 June 2017 - 08:11 PM
---
Posted 27 August 2017 - 03:10 PM
Coca-Cola Is Bringing Artificial Intelligence to Vending Machines
The new technology would allow remote ordering and the ability to "chat."
Customers would also be able to chat with Coca-Cola's bot via Facebook Messenger. That's where the AI will really be apparent to customers. As the Coca-Cola Journey puts it, "Consumers could jump into personalized chats with Coca-Cola, as if they were communicating with a familiar bodega operator...Using data gathered through the consumer's Facebook activity, current location and tone of conversation, the AI bot will adopt a local dialect and attitude tailored to each user."
Algorithms can already pick music and write copy
Coca-Cola is one of the most beloved brands in the world and is known for creating some of the best work in the advertising industry. But can an AI bot replace a creative? Mariano Bosaz, the brand's global senior digital director, wants to find out.
In theory, Bosaz thinks AI could be used by his team for everything from creating music for ads, writing scripts, posting a spot on social media and buying media. "That's a long-term vision," he said. "I don't know if we can do it 100 percent with robots yet—maybe one day—but bots is the first expression of where that is going."
Bosaz isn't alone in envisioning human-less creative. AI is already being used to create commercial music and jingles and publishers like the AP are experimenting with using robots to write copy.
---
#17 status - Armour
Posted 19 September 2017 - 11:35 AM
Meet the meat vending machine...
The first French butcher to install a meat vending machine, in the south-western town of Sainte-Catherine two years ago, said the idea came from Germany. "There are about 500 meat vending machines there," Laëtitia Lafaye said.
Last year a cheesemonger in the eastern town of Pontarlier installed an automatic cheese distributor.
But the spread of food vending machines is proving controversial. Traditionalists say they will lead to the demise of craft butchers, bakers and cheese shops.
"I oppose these machines because they stop people coming into our shops," said Emmanuel Gripon, an official of the French Bakers' Federation.
"It's contributing to the desertification of the couFrançois Joly, 26, who lives near the Paris meat dispenser, said: "At first you think it's strange, but then you realize it might be a good way to buy meat if you work late and feel like a steak when you get home."
However, another local resident, Véronique, a retiree, said: "I find the idea of buying raw meat from a machine a bit off-putting. It's impersonal, and what if the refrigeration system fails?"ntryside and it harms the social life of communities."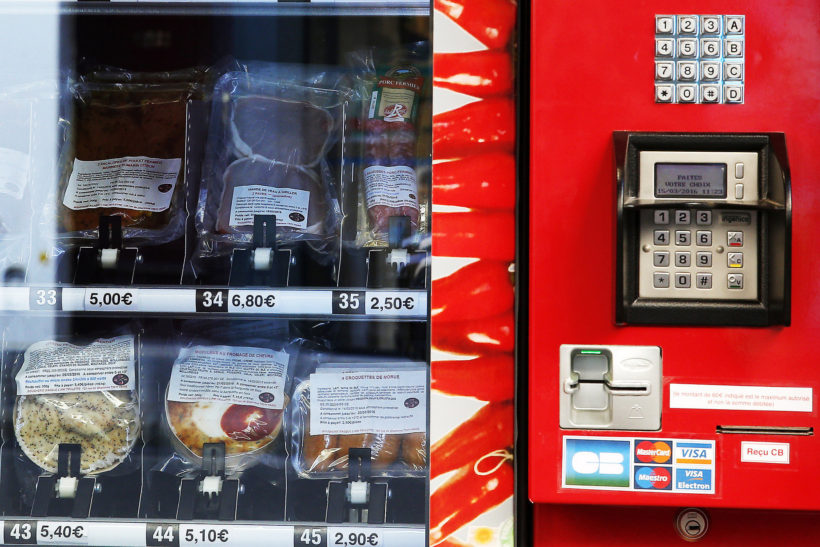 ---
---
---
Reply to this topic
Similar Topics
Topic
Forum
Started By
Stats
Last Post Info



Philosophy, Psychology and Religion
status - George



Politics, News, and Hypocrisy

Riddikulus




Religion

,

politics

and 7 more...

Philosophy, Psychology and Religion

Riddikulus




scared of what

Psychology of Mind Control

Feathers




Politics, News, and Hypocrisy

Ghostly Machines




Philosophy, Psychology and Religion
status - Guest



chicken coup

Politics, News, and Hypocrisy

Digger