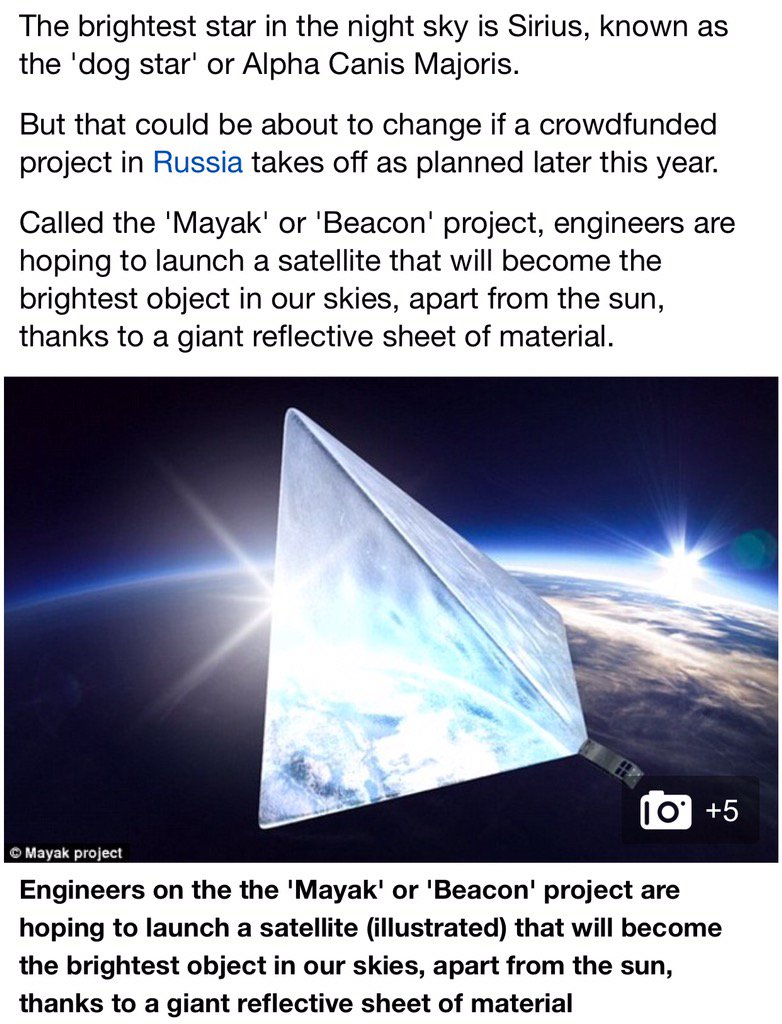 Have YOU spotted it? Russia's 'artificial star' set to light up the sky reaches orbit (but nobody seems to be able to see it)
The Russian 'artificial star' Mayak has successfully made it to orbit, putting it on path to become one of the brightest objects in the night sky.
The satellite launched from Baikonur spaceport on July 14 aboard a Soyuz 2.1a rocket, and unfolded its sun reflector upon arrival to orbit.
Once the team has obtained its ID number, sky-gazers will be able to track its location using an app for iOS and Android.
How a Russian Space Mirror Briefly Lit Up the Night
In 1993, the 65-foot-diameter satellite, called Znamya, briefly lit the Earth like a giant orbiting night light
during the 1990s, a group of Russian scientists and engineers devised a gadget that redirected sunlight lost to space back to Earth. Acting like a giant mirror, the device was intended to lengthen daylight hours, provide solar energy for power, and possibly one day power spaceships. And believe it or not, for a brief moment it actually worked.
The project to build Znamya or "Banner," as it was called, began in the late 1980s to test technology that would increase the length of a day with the goal of boosting productivity in farms and cities in the then Soviet Union.
"During the tests, Russian engineers say the small reflector should cast light equivalent to three to five full moons over an area of Earth measuring about three miles in diameter," Leary wrote.
As odd as the idea may seem, the test was successful.
When the Znamya satellite was deployed the night of February 4, 1993, it directed a beam of light about two or three times as bright as the moon and two-and-a-half miles wide down to Earth's night sky, passing across the Atlantic ocean, over Europe, and into Russia, Leary reported at the time. While observers on the ground only reported seeing a bright pulse as if from a star, astronauts in orbit said they could see and follow a faint light across the sky below. A few days later, the mirror burned up as it reentered the atmosphere.