Santa Muerte: The rise of Mexico's death 'saint'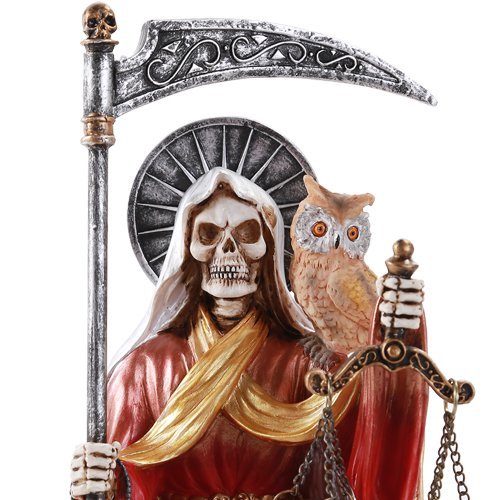 With readings, hymns and communion, Daniel Santana's Sunday service could pass for a traditional Catholic Mass, if it were not for the cloaked skeletons and skulls that surround him.
The ceremony takes place at a modest temple to Santa Muerte, the Mexican folk saint of death, in a rundown area of Guadalajara, the nation's second biggest city.
Despite a reputation as a death cult for criminals and drug traffickers, Santa Muerte has surged in popularity and taken on an increasingly prominent and polemic role in the Day of the Dead festivities held every 1 and 2 November.
Also known as the Bony Lady, the followers of Santa Muerte say her appeal lies in her non-judgemental nature and her supposed ability to grant wishes in return for pledges or offerings.
It isn't the Vatican's habit to give its opinion on every passing cult that flashes across the horizon, but the Santa Muerte is special.
That's because, ghastly as the figure may seem, and weird as the Holy Death cult beliefs may sound, its leaders borrow greedily from traditional church ritual for their own services.
In Mexico, the practice of Catholicism among the poor and desperate often involved crawling long distances on one's knees or tying thorny cactus paddles to one's bare back or making promises of future penance if God's favors were received.
Although these sacrifices were not sanctioned by the Catholic Church in Rome, they continued among people who knew of no other imaginable way to change their luck.
It makes sense, then, that when the cult of the Santa Muerte sprang up among Mexicans who are still poor, still desperate in different ways and for different reasons, worship would take on familiar forms.
At the Santa Muerte's most famous shrine in downtown Mexico City, traditional rosaries are said and young men crawl on their knees for blocks, cradling the holy skeleton in their arms. Instead of lighting incense, they exhale smoke from marijuana cigarettes for the Muerte to inhale.
Even worse—from the point of view of the Catholic Church—many of the pilgrims who gather around shrines to the saint of death still see themselves as devout Catholics.
Some self-appointed "priests," claiming to be leaders of a cult that has no hierarchies or structure, have even tried to insist that their temples are part of the official church.
For the Vatican, this month's declaration constituted a delicate balancing act.
On the one hand, the cult is un-Catholic, extravagant, and sometimes horrifying. The arrest last year of eight people charged with murdering two children and a woman in the course of Holy Death worship served to confirm that the Niña Blanca (White Girl), as she is sometimes known, can be invoked in dreadful ways.
On the other hand, churches are losing their flocks at alarming rates, even in predominantly Catholic Mexico, and it may be that Rome is anxious not to alienate millions of practicing believers who might worship a different kind of saint on the side.