Replying to Redefining Food Porn
Topic Summary
Posted 23 September 2018 - 01:01 PM
Scale in images is so important. It has the effect of transforming expectations beyond all reality.
Posted 22 September 2018 - 06:32 PM
Sadly, advertising has always been a blatant exaggeration of reality. In most cases, what you see on advertisements is not what you get when you buy stuff. They say never judge a book by its cover. We say never judge a product by an ad or a movie by its trailer! Brands and businesses tell a lot of lies to promote their products. Now, what if companies are honest about their products? How would advertising be like if there were stricter rules imposed on promoters that they should not take a hyperbolic approach to advertising? Check out these 12 hilarious and honest advertisements to get an idea! Trust us; the pictures are actually hilarious, no false advertising here!

https://baklol.com/b...oca-Cola-_11090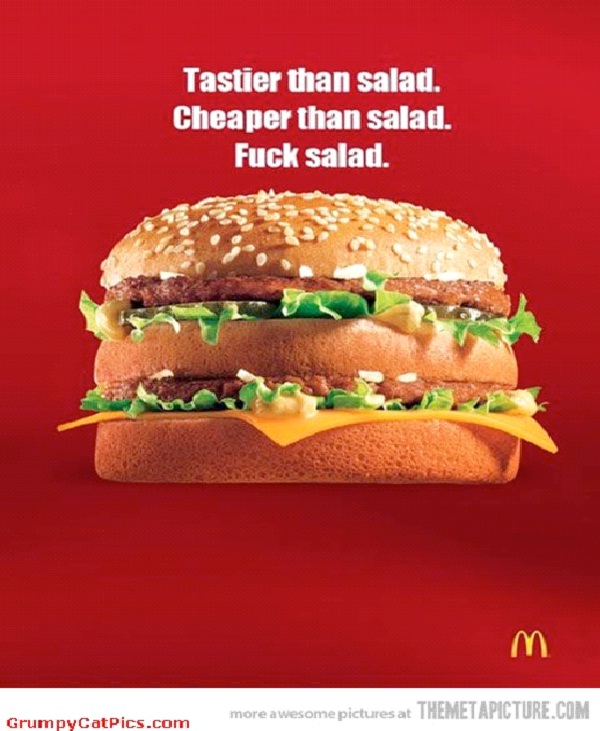 Posted 22 September 2018 - 06:22 PM
Can you describe a turd using 20 adjectives and sell it in a tweet?


Posted 25 August 2018 - 10:34 AM
Crop it like it's hawt!
Posted 25 July 2018 - 10:26 AM
Let's snake a manwich

Product placement is a big part of the Telephone video. But can you believe that Miracle Whip would actually pay money to have their product featured in a video in which food poisoning plays a prominent part of the plot? Yeah, they did.

Another sequence, in which Gaga poisons a whole diner full of patrons, is interspersed with footage of the singer making sandwiches with Wonder Bread and Miracle Whip. Mr. Carter said Gaga wanted to juxtapose the poison sequence with all-American brands, and suggested Wonder Bread for an unpaid placement. Miracle Whip, meanwhile, made a paid appearance to appear in the clip. A Miracle Whip spokeswoman confirmed the brand's paid integration, but didn't comment further. The product shots feature new Miracle Whip packaging, and seem the latest in a series of Gen-Y outreach maneuvers, including a new campaign promising "we will not tone it down."

But what really got me is there new logo. It combines the M and the W in a rather unusual way. It's very "organic". It kind of looks like... a snake!




Meanwhile here are some marketing slogans from Miracle Whip's Facebook page.

Miracle Whip is all about adding spice – whether it be to your life or sandwich. Never boring. Never bland. Never blending in. Always on. Always spreading unique flavor. Always ready to bring the zing!

We are Miracle Whip. And we will not tone it down.

"Bring the zing"? "We will not tone it down"? Makes you wonder... what kind of whip they are talking about?

My friend LVB over at Vigilant Citizen pointed out the cognitive dissonance contained in the name Miracle Whip. Miracle is good, whip is bad. It creates a kind of tension in the mind that effectively imprints it deeper in the subconscious as the mind struggles to resolve the conflict between these two opposing terms.

Notice the same thing at work in Lady Gaga's name. Lady is sophisticated, gaga is infantile. Again this creates dissonance in the mind. A kind of clashing of two polar opposites which the mind wrestles with.

But it's not as if these are new tricks to the entertainment industry.

Why bother coming up with new tricks when the old ones work every time?

More on cog-diss

http://publicvigil.b...dissonance.html
Posted 23 July 2018 - 10:31 AM
Actually, I like using products that look as real as possible. The usual tricks are just close cropping and fancy eye candy. Facefeeders & gigglers usually require less text and more flash. Keep it simple, keep it clean, keep it safe...
Crop it like it's hawt!
Posted 18 July 2018 - 07:48 PM
Ramen?!

Would you like some chocolate?


Posted 18 July 2018 - 04:30 PM
Trolls are always hungry...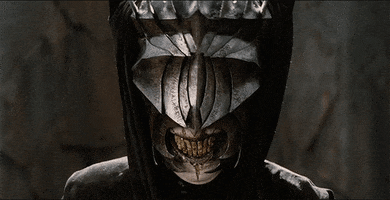 Posted 18 July 2018 - 04:21 PM

Posted 18 July 2018 - 04:12 PM